The recent coronavirus pandemic has substantially increased the usage of face masks. It has become our first line of defense against an invisible and deadly enemy. However, each time you wear your mask, bacteria builds upon it. Your own respiratory droplets, as well as foreign pathogens, are capable of thriving on its surface.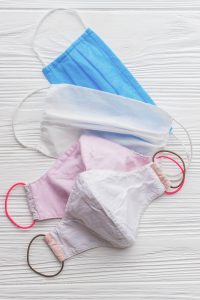 Although we have repeatedly reminded how imperative proper sanitization is by healthcare professionals, some people reuse their face coverings multiple times without sterilizing them in between uses. The likely reason for this is: current available disinfecting options are inconvenient, to say the least. Focusing on the dilemma of proper sanitation of various masks, from surgical or cloth masks to N-95s or KF94s, a Florida Atlantic University's Schmidt College of Medicine scientist had the idea for an ingenious solution. Patrick Grant, Ph.D., a Biomedical Science Associate Professor, came up with the design of a compact and convenient sanitizing gadget that he aptly called a "portable hanging rack device." It has an enclosed compartment with two forms – a plastic chamber with a knob and a stainless steel container. It is capable of disinfecting up to six masks at a time. With the power it gets from its UVC light source, it can easily and quickly kill pathogens' biological components. Grant has successfully tested this device against numerous micro-organisms, including the highly infectious E-coli, annihilating them in about a minute.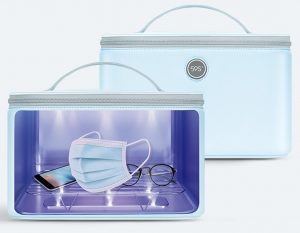 "Some people have limited access to face coverings, most can't dispose of theirs after a single-use. People who use cloth masks may disinfect them by washing. Still, the process takes time and too much effort, especially if done regularly. Furthermore, medical-grade masks such as N-95s and KF94s cannot be washed, and spraying them with disinfectant sprays may cause irritation to the wearer and lowers the effectiveness of it. Which is why I created this gadget as an efficient method to disinfect face coverings without risking damage to their efficacy and allows wearers to reuse them daily." – Patrick Grant, PhD Florida Atlantic University's Associate Professor of Biomedical Science
There have already been multiple devices that claim to do the same things Grant's creation claims. The difference is "portable hanging rack device" is, well, portable.
When fully developed, this gadget will efficiently disinfect masks and other objects like house keys and smartphones in a manner that is safe, inexpensive, and suitable for home use.